Insight #1 – The Internet has No Structure
Many people approach online genealogy searches based on their skills and experience using libraries, physical archives and structured websites such as FamilySearch and Ancestry. Unfortunately, this type of approach does not work well with the broader internet. Searching on the internet is a bit like searching through the wilds of a jungle.
The internet has no structure. As a result, it takes a different skill set to be successful in finding online genealogy records.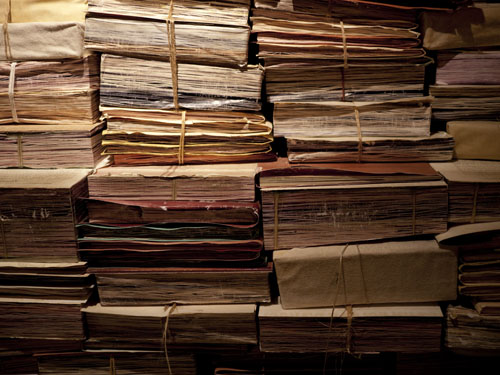 Searching the internet is fundamentally different than searching a physical archive. An archive might be messy (as shown above), but it will have a structure. The internet has no inherent structure.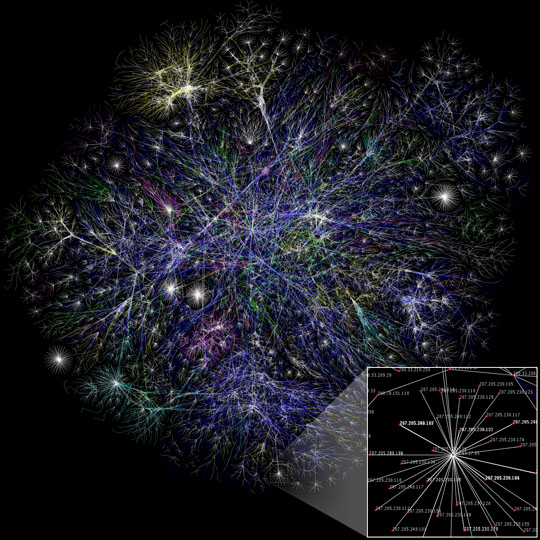 This is an actual map of the internet. Notice how information clusters into nodes. There is no overall structure to the internet (
image courtesy of The Opte Project
).
There are two important things to always remember when you are looking online for your ancestors. First, as already mentioned, the internet has no structure. Second, genealogy records are archived records. Archived records tend to sit in the back dusty corners of the internet. Thus, ultimately what you are looking for are unstructured records in the far ends of the internet, as shown in the back corners of the image above.
This is a serious challenge, and it is the reason why you need every tool at your disposal if you want to be successful at finding your ancestors on the internet. It is also the reason why we designed our genealogy search engines to help you with this task.
To understand the unstructured nature of the internet in general, and the unstructured nature of genealogy records in particular, consider the example of a cemetery record. There are several excellent websites that offer free cemetery records. Notice from the samples below how much they differ in style, format and information.