Apple's iPad Takes a Bite out of Reading
This week Apple launched the iPad. This device has the potential to be a game-changer in terms of how people read on the internet. Certainly, it will be of interest to genealogists and others who like to read electronic books, magazines or newspapers online.
The iPad has been variously described as a touch-screen laptop without the keypad or an oversized iPod. The reality is somewhere in between. Certainly, it has the functionality of an iPod but with a much larger screen. Many iPod applications are now being ported over to the iPad (3,000+ and counting), although to date few applications have taken full advantage of the larger 9.7" screen, except for reading applications and games.
The iPad is not really a laptop substitute. It lacks some key features of a laptop such as the ability to multitask (run two or more programs at the same time), a USB port or a built-in camera. The biggest shortcoming of the iPad (and this is an odd shortcoming) is that it lacks compatibility with Adobe's Flash software. Flash is what powers most of the movies and videos found on the internet. This means that (at the moment) most movies and videos will not run on the iPad. Apple is working to correct this problem by trying to convince major movie studios to port their movies to software other than Flash. However, progress has been slow. Also, the lack of a physical keypad (the touch-sensitive screen has a keyboard) makes it difficult to do an extensive amount of typing for email, word processing or spreadsheet applications. The iPad is more about consuming content rather than computing or generating content.
In spite of its hefty USD$500+ price tag (see the iPad Specifications table below) similar to that of a netbook or low-end laptop, there does appear to be a niche for the iPad. It makes a great electronic book reader. The bright, colorful screen is clearly a step above the Amazon Kindle or the Sony Reader. It is also good for surfing the web and the screen can be used in either a horizontal or vertical orientation (it changes automatically as you rotate the device). And, of course, the iPad looks very stylish and the device has clearly benefitted from Apple's excellent design philosophy.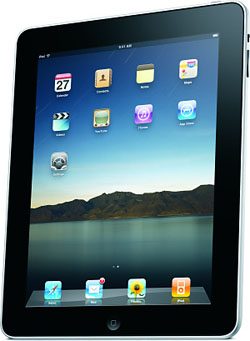 The iPad really shines as a reading device for the sofa or in bed. It is great for online books, newspapers and magazines, including Genealogy in Time™, which has been specifically structured to work well with portable electronic devices like smart phones, netbooks and now the iPad.
Although the iPad is a game-changing device for readers, its broader impact is likely to be more evolutionary rather than revolutionary. Other manufacturers are reportedly working on similar devices to the iPad and this time next year there is likely to be several equivalents on the market. Unless you are an early adopter of new technology, you may prefer to wait until version 2.0 of the iPad when some of the shortcomings of the current version have been worked out and more software has been developed that is specifically tailored to the iPad. In fact, there are already rumors that Apple will be launching a smaller 5 to 7 inch iPad sometime in the first quarter of 2011 for people who want a more portable version.

See Also: Apple's iPad - Changing the Way We Read Online
iPad Specifications
| | | |
| --- | --- | --- |
| Size: | | 9.6 x 7.5 x 0.5 inches (h x w x d) |
| Weight: | | 1.5 pounds |
| Display: | | 9.7 inches diagonal, 1024 x 768 resolution, color |
| Wireless: | | WiFi or 3G depending on model |
| Battery Life: | | 10+ hours |
| Keyboard: | | touch screen |
| Memory: | | 16GB, 32GB, 64GB depending on model |
| Language Support: | | English, French, German, Dutch, Italian, Spanish, Russian, Japanese, Chinese |
| US Launch: | | April 2010 |
| World Launch: | | May 2010 |
| Best For: | | reading books, magazines and newspapers online |
| Price: | | US$500 to $830 depending on memory and wireless capability |
| Website: | | www.apple.com/ipad/pricing/ |