Genealogy This Week - 10 April 2010
Our weekly compilation of interesting new tools, resources and stories for genealogists:
National Library Week = Free Genealogy Databases
Sunday April 11th to Saturday April 18th is National Library Week. Sponsored by the American Library Association, it is an annual celebration of the importance of libraries and library services. Major database companies often provide free access to some of their subscription genealogy databases during the week. Some of these databases can be accessed from home and some of the databases need to be accessed from your local library. Either way, they are free for the week. We would encourage our Genealogy In Time™ readers to take full advantage of this offer.
We will continuously update our list of known free genealogy databases during the week. Please check back with this article on our website several times during the week to see if any new free genealogy databases have been added. Also, if you know of any free genealogy databases that we may have missed for National Library Week then please send us an email at letusknow@genealogyintime.com
Here is the list of known free genealogy databases for the week of April 11-18:
Proquest African American Heritage – devoted to African American family history research. This site contains census records, vital records, freedman and slave records, church records and legal records. It also contains a variety of electronic books specifically devoted to African American family history, including an online edition of the resource book Black Genesis. [Link]
Proquest Historical Black Newspapers – An online database of black newspapers from Baltimore (1893-1988), Chicago (1910-1975), Los Angeles (1934-2005) and New York (1922-1993). [Link]
American History in Video – Thousands of hours of streaming video from newsreels and many other historical film/video sources. The database can be searched by historical event, date, place, subject and person. This database is run by Alexander Street Press. Note: although it is free, you need to register as a library to access the database. [Link]
Rare 1790 First US Census to be Auctioned – Here is an interesting proposal if you are a rich genealogist. Sotheby's will be auctioning a rare first edition of the first 1790 US census personally signed by Thomas Jefferson. The auction is set for April 14th and the 56-page document is expected to fetch between $50,000 and $70,000.
Only about 200 copies of the first edition of the 1790 census are thought to exist. They were distributed exclusively to members of the House and Senate and to state governments. The 1790 census was not a public document according to Selby Kiffer, Sotheby's books and manuscripts specialist.
Jefferson was Secretary of State at the time of the 1790 census. Only two other first editions signed by Jefferson have come up for auction in the last 35 years: one sold at Sotheby's in 2000 for $47,500 and one sold in 2004 at Christie's for $80,000. [Link]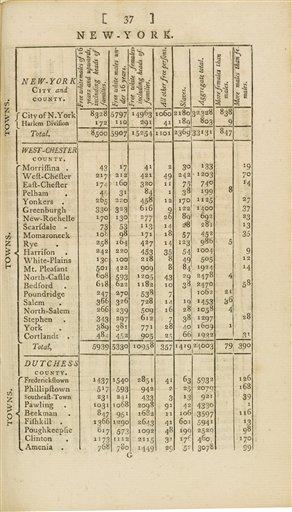 A Beautiful 1798 Map of Dublin – Mapco has put online a beautiful 1798 map of Dublin. The map is free to look at and can be viewed in high resolution. This is a good map to use if you have ancestors from Dublin. [Link]