Genealogy This Week - 17 July 2010
Our weekly compilation of interesting new tools, resources and stories for genealogists. This week:
Tracking American Counties – The Newberry Library of Chicago, Illinois has just released an excellent new tool that can provide a great genealogy brick wall solution. Counties are often the principal source of certain types of genealogy records in the United States, such as land records and court records. Yet, over time, county boundaries can shift, counties can merge and sometimes counties even cease to exist. When looking for historical country records, it is important to know which county may contain a particular record. For example, it is perfectly plausible that a single ancestral farmstead can shift between a couple of counties over the years. This is where the new Digital Atlas of Historical County Boundaries comes in handy. This interactive map tracks all the changes in the size, shape, location, name, organization and attachment of every US county and state from 1634 to 2000. This data has been available before, but not in such easily-accessible format. This new interactive map can be used in a variety of different formats and can even be integrated into Google Earth. The Newberry Library that hosts this great new genealogy tool is an independent research library with an extensive collection of rare books, maps and manuscripts. Access is free. [Digital Atlas of Historical County Boundaries]
Your Privacy – We have just updated our Terms of Use and Privacy Policy. We invite you to read them to better understand us. Both policies have been written in plain, straight-forward language with none of the legal spin common on many websites. Longstanding members of our newsletter will know how important privacy is to us and how hard we work to safeguard your privacy. [Terms of Use] [Privacy Policy]
More About Us – We have also updated our About Us page. This page is different from the normal About Us page found on most websites. We have included an entire section on how we help the genealogy community. If you belong to a genealogy society or have a genealogy blog or website then we strongly encourage you to read this page to see how we can help you. Similarly, if you know someone who belongs to a genealogy society or has a genealogy blog or website then you might want to alert them to this page. It is our way of helping our members and keeping the genealogy spirit alive. [About Us]
Preserving 2010 Sounds – The British Library is getting very creative with their online archives. The announced a new archive this week devoted to preserving sounds from 2010. It is called a UK Sound Map. What is that you ask? Actually, it is pretty neat and it is likely to be of interest to anyone with English ancestors. Basically, the site is a map where you can overlay sound recordings in a creative and innovative manner. You could use it to talk about your ancestor's homes, places of work, etc. This site is fun. Access is free. [UK Sound Map]
Ancestry Expands to Sweden – This is interesting news for anyone with Swedish ancestry. Ancestry.com this week purchased Genline.se, the leading Swedish family history website. The purchase price was US$7.2 million. Genline is a subscription service with 17,000 paying customers. The website has 26 million pages of digitized Swedish church records from the 1600s to the present. That works out to a purchase price of $424 per subscriber, or 28 cents per record page. Obviously, Ancestry thinks this information is very valuable. It is expected that Ancestry will make the Swedish church records available on Ancestry's main website.
Building Anglo-Saxon Roots – Oxford University has launched a new online project that may be of interest to genealogists. Called the Woruldhord Project, it aims to create the world's largest online archive of Anglo-Saxon history. The university is asking the public for help in uploading Anglo-Saxon stories, poems, writings, art, videos of historical re-enactments and photographs of monuments. The project was inspired by the massive find of 1,500 Anglo-Saxon gold pieces in Staffordshire in 2009. The gold collection, now known as the Staffordshire Hoard, is on display at the British Museum. Some of the pieces are simply stunning. The image below that we took shows a good example. It is a rare piece of Anglo-Saxon gold strip inscribed in Latin with a verse from the Bible (complete with spelling mistakes). Access to the website is free. You have to register to submit content. Incidentally, woruldhord means 'world hoard' in old English. [The Woruldhord Project]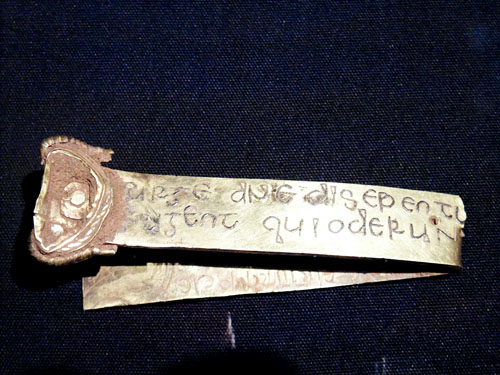 The Rise of the Silver Surfer – A study of internet usage in the UK by the Financial Times newspaper has revealed an interesting phenomena that will be of interest to genealogists. The study found the fastest growing group on the internet are those aged 50 and over. Not only is the internet getting older, but the audience is shifting towards more mature age groups. And what are the most popular topics with the 50+ age group? They are travel, cooking, genealogy, health and news. Maybe this means in the future we will see more websites with larger size font, like GenealogyInTime™. Incidentally, here is a good word to toss out to your children/grandchildren. According to marketers, the 50+ internet age group are now officially called silver surfers. Welcome to the age of the silver surfer!