Genealogy This Week - 9 October 2010
Our weekly compilation of interesting new tools, resources and stories for genealogists. Google has recently made several changes to their products that will impact genealogy. This week we discuss these changes to show how you can take advantage of the latest Google tools to improve your genealogy research.
Google Map Tools – Google has added a whole bunch of new tools to Google Maps. Several of these tools are useful for genealogy. Some of the more interesting tools include:
• A latitude/longitude marker to mark the exact location of an ancestral home and other genealogy points of interest.
• A distance measurement tool for marking off the distance between two points on a map. This is good for determining the size and location of old homesteads.
• A URL shortener for sending short map links to others.
• A "What's Around Here?" locator to determine what else of interest is located in the region.
To access these new tools, you have to click on the icon shown in the image below on the Google Maps page.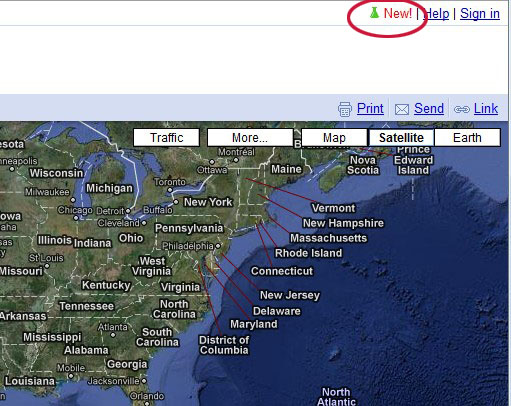 Google Streetview – Google Streetview has now become available for Ireland and Brazil. This is good news for anyone with Irish or Brazilian ancestors.
For anyone who is not familiar with Streetview, it allows you view ancestral homes and other genealogy places of interest at street level. You can view the YouTube video below to see how Streetview works. Even if you think you know how Streetview works, you should watch this video because it covers some of the subtler points of using Streetview. Finally, an obvious question to ask is what parts of the world are currently covered by Streetview? Click here to find out (you can zoom in on the Google map by clicking on it).
Turn Off Gmail's Conversation View – Many GenealogyInTime™ Newsletter members use Gmail, so we thought we would mention this useful new feature. The Gmail Conversation View allows you to view the entire thread of a conversation through multiple emails. According to Google, some users really don't like this feature, but in the past there was no way to turn it off. Now you can toggle this feature on and off. Go to the Settings page, look for the "Conversation View" section and turn it off. You can always turn it back on later if you change your mind.
Google URL Shortener – For those genealogists who like to use URL shorteners for Twitter, Facebook and other applications, Google has just released a stand-alone URL shortener. You don't need to be logged into a Google application to use it. It is located at www.goo.gl (is that neat or what!). There are many shorteners on the internet but Google claims theirs is more stable, more secure and faster.