Upgraded Genealogy Search Engine
GenealogyInTime Magazine has made a major upgrade to its free Genealogy Search Engine. An additional 256 million more ancestral records can now be searched for free.
The Genealogy Search Engine now indexes 1.8 billion free ancestral records across more than 600 websites from around the world. The primary countries covered by the search engine include Canada, the United States, the UK, Ireland, Australia and New Zealand. A considerable number of records for Continental Europe have also been added.
The Genealogy Search Engine provides a good alternative to other sources of ancestral records. It searches hundreds of millions of free ancestral records not covered by subscription services like Ancestry or other search services like FamilySearch.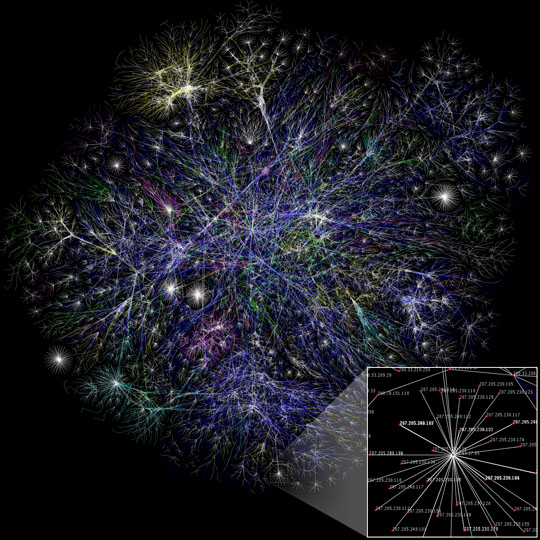 This is an actual map of the internet. Ancestral records tend to be clustered in the far corners of the internet. The Genealogy Search Engine will help you find these records. (from Ten Innovations in Online Genealogy Search)
Some of the highlights of this upgrade include:
• The addition of many more cemetery records. All the major cemetery websites are now indexed (Find A Grave, Interment, Sysoon, Dead Fred, Obitz, Billion Graves, various state gravestone photo projects, etc.). The Genealogy Search Engine can now be used to search across all online cemetery records from one convenient location.
• The records from the various French Genweb websites are now available for search.
• About 10 million new ancestral records from Eastern Europe were indexed.

• Ancestral records from South Africa (about 1 million) were added for the first time.

• Several million historic images from New Zealand are now available for search.

• Roughly 1 million new records for Ireland were added as well as 2 million new records from England. Most of these new records come from various local archives.

• A large number of regional newspaper and historic photograph archives were indexed from the United States.
Use the Genealogy Search Engine to search ancestral records.
Use the Family Tree Search Engine to search online genealogy forums and family trees to see if anyone else is researching your family.
Read A Guide to Performing Online Genealogy Searches to learn how to get the most out of the Genealogy Search Engine.
Posted January 2012