Old Maps Online
Here is another cool and very useful map website. Old Maps Online is a portal for finding online historic maps in libraries from around the world. The website defaults to your current location making it quick and easy to find local historic maps. Alternatively, you can search for a map by typing in a place name and then use the sliding scale to enter an approximate date range for the map. [Old Maps Online]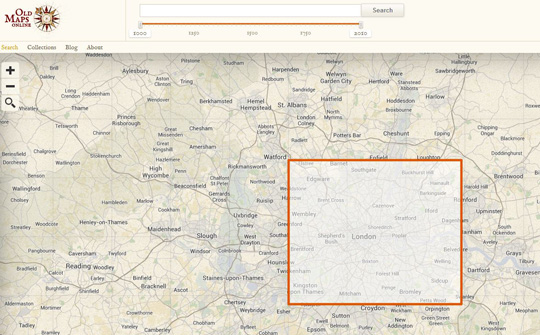 The user interface for using Old Maps Online is simple and intuitive, making it easy to find historic maps.
Open Any File Extension
This website helps solve the problem of what to do with old software files with unknown file extensions. OpenWith.org is basically a master directory that will tell you what the file extension means, what software used the file extension and what free programs are available to open it. This is not the kind of website you would use on a regular basis, but when you need it, this website can be immensely helpful. [OpenWith.org]
Topsy
You read something useful on a blog, but you forget which blog. You saw a tweet about a great genealogy brick wall solution, but you forgot to save the tweet. How do you track this information down? Enter Topsy, a search engine dedicated to searching and analyzing the social web. Simply enter your search term into the box, press enter and Topsy will find it for you.
Topsy maintains a comprehensive index of social websites, including hundreds of billions of tweets. We have found Topsy to be a more powerful search tool of blogs and the social web than Google Search or Google Alerts. [Topsy]
Topsy has a simple user interface that makes it easy to search the social web. It also provides useful tools to see how information is trending on the internet. Searches can be performed by when the information first appeared on the internet (past hour, past day, past week, past month and all time). The searches can also be rationalized by type of information (links, tweets, photos, and videos, etc.).