Let's Talk About Plagiarism
Plagiarism is something that plagues the genealogy industry. Let's talk about it by presenting an interesting case study.
Example 1
Below is a screen shot of a recent email newsletter sent out by a genealogy website. Some of you may recognize the newsletter/website and some of you may not. For reasons that will become evident, we won't be mentioning it by name.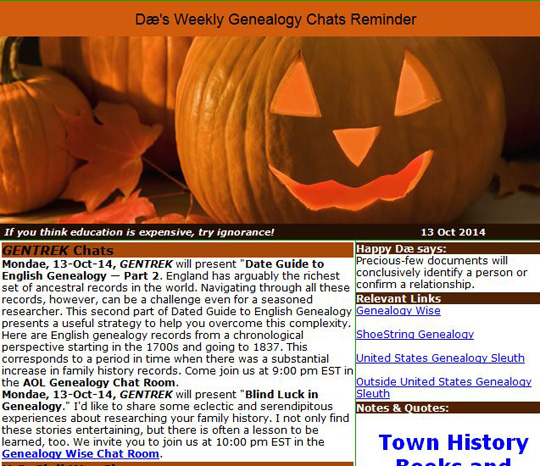 Look at the image above. Notice where it says in bold "GENTREK will present Date Guide to English Genealogy – Part II"
Those with a good memory will recall that GenealogyInTime Magazine has an article titled A Date Guide to English Genealogy – Part II. We wrote it some time ago. We encourage readers to click on our link and compare the introductory text between the two articles. They are essentially the same.
Example 2
Let's look at another example.
Below is another screen shot from the same week from the same email newsletter. The screen shot shows the first half of an article. It also shows in orange at the top a genealogy website that may be familiar to some. This is the source of the newsletter.
Many readers of GenealogyInTime Magazine will probably recognize that it is the same article as one we just published on our website. For those who would like to compare text, here is the link to our article Obituary Photos are Getting Younger. Once again, the same.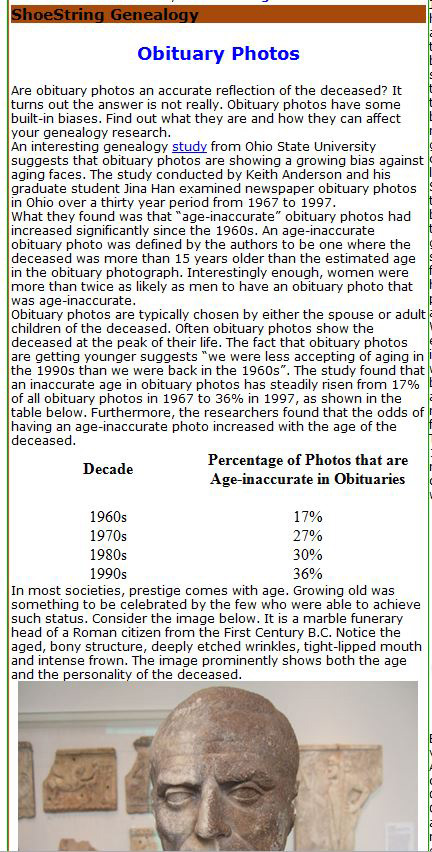 This article was copied in the email newsletter just two days after we published the original article on our website. We would show more of the copied article but we couldn't get all of it in one screen shot.
A careful reading between our article and the article referred to in the image above shows no attribution or reference to GenealogyInTime Magazine.
Some More Issues
It gets worse. It seems this newsletter has published other articles of ours. From what we can tell, any reference to GenealogyInTime Magazine in these articles and/or links to other content on our website have been carefully scrubbed out. A person reading these articles would have no idea they were copied from our website.
What This Means to Us
For the benefit of our readers, we want to remove any doubt as to who created this content:
• All of GenealogyInTime Magazine's articles are 100% original. We write them ourselves.
• The individual in question who runs this other website does not write and has never written for GenealogyInTime Magazine. He has no association with our website past or present.
• The individual in question also does not (and never had) our permission to copy our articles. We clearly state our policies on our About Us and Terms of Use pages.
What to Do About Plagiarism
Many plagiarists are habitual offenders. Many plagiarists also copy content from more than one website. These people can't exist, however, if they don't have an audience.
We would like to encourage our readers to not patronize known websites/newsletters that plagiarize content. Also, please tell your friends and others in the genealogy community that they should avoid these websites as well.
Plagiarism is an issue that continues to plague the entire genealogy community. It is certainly in no one's best interest to allow it to continue.
Feel free to talk about/pass on/copy or republish this article. You have our permission.
Related Discussion:
Several bloggers have discussed this particular incident of plagiarism. Here are their stories:
You May Also Like:
A Date Guide to English Genealogy - Part I
Ten Innovations in Online Genealogy Search
Twenty Tips on What Makes a Good Blog
Top 100 Genealogy Websites of 2014