8. Complement Your Subscription Searches – You pay good money for your subscription to Ancestry / FindMyPast / MyHeritage. However, after much searching you just can't find the person you want. What do you do? Try the Genealogy Search Engine. It searches free ancestral records across thousands of websites not covered by the major services or FamilySearch.
We estimate that roughly 80% of the records covered by the Genealogy Search Engine are not covered by the subscription websites. This occurs because it covers different classes of ancestral records than most of the subscription websites. For example, it is the only search engine capable of covering the massive Google newspaper archive.
If you don't use the Genealogy Search Engine, you could be missing some really useful ancestral records.
9. Learn Basic Search Techniques – Learning some basic search techniques when looking for your ancestors online is a very useful idea. It will help focus your online searches. This saves time, effort and a lot of frustration. Read the brief article A Guide to Performing Online Genealogy Searches. It will help get you to where you need to go.
10. Use the Right Google Search Engine – Google has an incredible home country bias in its search results. This is great if you are searching for a local restaurant. Not so great if you live in (say) the United States and you are looking for an ancestral record in Germany. It is much better in this case to use the German version of the Google search engine.
We maintain a complete list of all the Google country search engines. You should use it. This is probably the number one success factor for most people in finding the correct ancestral record online.
11. Read Old Handwriting – At some point, everyone comes to the realization that they need to have the ability to read old handwriting if they want to be able to decipher an ancestral record. We provide a simple list of the best online resources in our article How to Read Old Handwriting.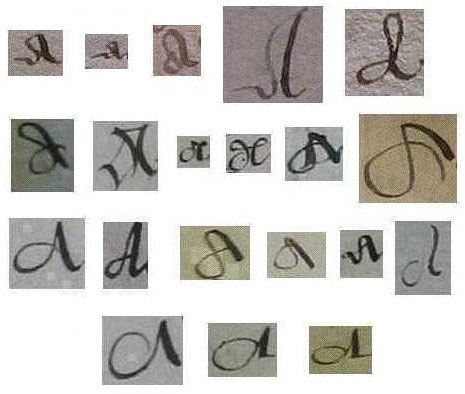 These are all examples of the capital letter A found in old documents. The article
How to Read Old Handwriting
will point you in the right direction to find free online resources to help you decipher old handwritten documents.