Ancestry.com Buys Find A Grave
The purchase of Find a Grave changes the competitive landscape for genealogy. Prior to the purchase, Find A Grave was the third largest genealogy website overall and the largest independent and free genealogy website. Now Find A Grave is part of Ancestry.com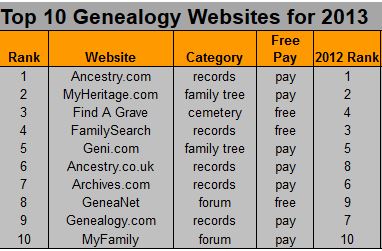 Find A Grave was originally created in 1995 by its founder Jim Tipton in Salt Lake City as a way of finding the graves of famous people. It has since grown to become the number one cemetery website in the world. It currently has approximately 106 million grave records. The number of records on the website has grown rapidly over the last two years, as shown below.
Find A Grave has grown very rapidly over the last two years. (Source Archives.com, FindAGrave.com)
In late 2012, Find A Grave surpassed FamilySearch.org in internet traffic to become the largest free genealogy website (see the article Top 100 Genealogy Websites for 2013). According to our estimate (based on recent Alexa rankings), Find A Grave currently gets about 12,800 visitors a day (versus about 10,000 visitors/day for FamilySearch.org).
Ancestry.com purchased Find A Grave for an undisclosed amount of money. They have pledged to keep Find A Grave free. They have also pledged additional resources to the website to develop (for example) apps, presumably to make it easier for people to upload cemetery data. Certainly Ancestry.com will want to keep the goodwill of all the people who contribute cemetery information to Find A Grave for free.