MyHeritage.com dropped from second to fourth place in 2014. There are a few other family tree websites that now compete with MyHeritage.
Geni.com and Ancestry.co.uk continue to hold the fifth and sixth positions again this year.
Geneanet moved up one position to number seven, while Archives.com dropped one position to number eight.
Genealogy.com remained at number nine again this year.
Genealogy Bank is the new entrant to the top ten list this year. It moved up one position to hold the final spot at number ten. Genealogy Bank has steadily increased the size of their newspaper collection this year.
Top Ten Free Genealogy Websites
Below is the list of the top ten most popular free genealogy websites.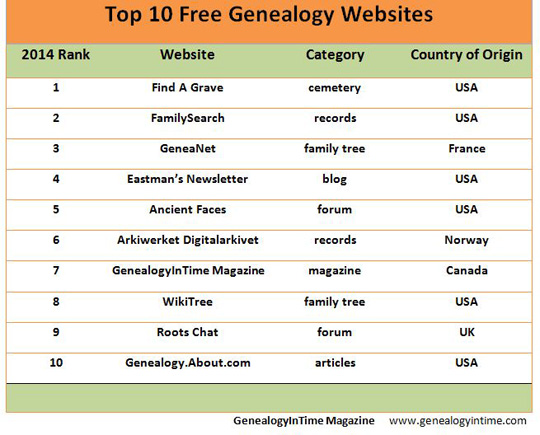 It is interesting to compare the top 10 subscription websites versus the top ten free websites. The free genealogy websites are more diverse in what they do and where they are located.
The top three free genealogy websites have not changed at all this year. Find A Grave is still first, followed by FamilySearch and then GeneaNet.
A big change this year is that Eastman's Online Genealogy Newsletter exhibited strong growth and has now become the fourth most popular free genealogy website.
Ancient Faces, the popular forum for sharing photos and memories of people and places from the past continues to get even more popular. It is now the fifth largest free genealogy website.
Arkiwerket Digitalarkivet, the records website from Norway slipped slightly this year from fourth place to sixth place.
In seventh place is GenealogyInTime Magazine. We are the world's most popular online genealogy magazine. In addition to articles, we also host a powerful free Genealogy Search Engine and a variety of tools and resources to help people discover their ancestors. The most common comment we get about GenealogyInTime Magazine is that it is a unique genealogy website.