Two new genealogy societies made the list, which is always nice to see. At #34 is DIS-Norway and at #79 is the Irish Genealogical Research Society. The website for the Irish Genealogical Research Society just launched in March 2013.
Billion Graves at #46 has grown quickly to become a very popular cemetery website. As the name suggests, the long-term objective of the website is to capture and transcribe a billion cemetery records. This is a neat idea that is definitely worth checking out.
WieWasWie at #64 is a Dutch ancestral records website, which roughly translates into "Who's who". It is also worth checking out, particularly if you have Dutch ancestors (it helps if you can speak Dutch).
Next is Family Tree Webinars at #69, which is owned by #51 Legacy Family Tree software. The Legacy Family Tree Webinars website specializes in online webinars devoted to genealogy. All live webinars are free and they are usually fun and informative.
Ancestry.se at #75 is a great website for Swedish genealogy records. Similarly, #78 Dansk Demografisk Database (which translates to Danish Demographic Database) is definitely worth checking out for anyone with Danish ancestors.
At #80 FindMyPast Ireland from brightsolid continues to steadily grow their Irish record collection.
At #87 Gould Genealogy is the leading genealogy services firm from Australia. They provide everything from ancestral records to genealogy cruises and are a must stop for anyone with Australian ancestors.
Next are three websites that are useful for anyone with European ancestors. #90 MyHeritage.se is for Swedish family trees, #91 Volksbund is for German ancestral records and #97 Ancestry.fr is for French ancestral records.
At #98, it is nice to see the USGenWeb Project finally made the Top 100 List. For the last two years, they have always been just beyond 100 in the ranking. The USGenWeb project is a free website run by a dedicated group of volunteers. They post free US ancestral records on their website from every state in the union. The website is extensive and contains millions of records. It is a must stop for anyone with US ancestors.
At #99 is Familiaridade, a family tree website from Brazil. This is the first time we have ever had a genealogy website from South America make it to the top 100 list.
Finally, rounding out the list at #100 is Irish Genealogy, the Irish Government's website devoted to helping people find their ancestors.
Top Genealogy Categories
The top genealogy categories have not changed that much in 2014. What has changed is that we now measure the categories by actual internet traffic, which is more accurate than the old methodology. The diagram below highlights the top genealogy categories in 2014.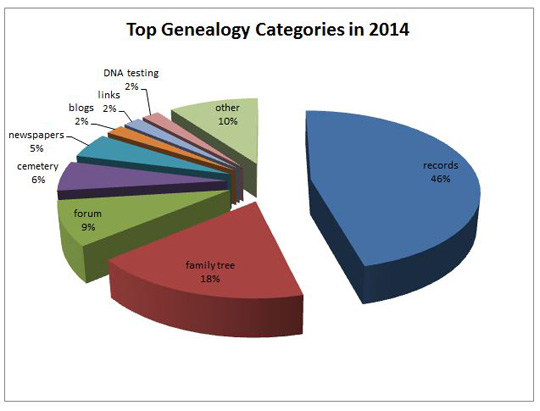 The allocation to the different genealogy categories is based on the actual number of website visitors to each category for all the websites in the
Top 100 List
.