Ancestry is by far the largest corporation in the genealogy industry and probably far larger than most genealogists realize. They own 16 websites in the Top 100 List. The websites are #1 Ancestry.com, #2 Find A Grave, #6 Ancestry.co.uk, #8 Archives.com, #9 Genealogy.com, #15 Ancestry.ca, #17 Ancestry.com.au, #19 Fold3, #24 Mundia, #26 Newspapers.com, #29 MyFamily, #44 ProGenealogists, #75 Ancestry.se, #76 Family Tree Maker, #83 Ancestry.de and #97 Ancestry.fr
In the last couple of years, Ancestry has bought Find A Grave, Archives.com, Fold3 and ProGenealogists, all which were independent at one time.
MyHeritage operates primarily under the MyHeritage banner. They have 13 websites in the Top 100 List. In addition to all the various MyHeritage websites, they also own #5 Geni.com, #39 World Vital Records and #68 Family Link (which visually looks just like World Vital Records).
The firm brightsolid now operates their genealogy websites in a separate division called DC Thomson Family History. They operate #18 FindMyPast UK, #30 Genes Reunited, #48 ScotlandsPeople (with the Scottish Government), #57 British Newspaper Archive (with the UK Government), #59 FindMyPast.com and #80 FindMyPast Ireland.
At GenealogyInTime Magazine, we wondered what percentage of all internet traffic to genealogy websites is controlled by Ancestry, MyHeritage and brightsolid respectively. In other words, exactly how big an influence are these corporations on the genealogy industry? To find out, we performed a series of detailed calculations on traffic flows to all the websites owned by the three corporations. We then compared these numbers to the traffic flows to all genealogy websites.
By our calculation, we determined Ancestry controls 32% of the genealogy industry, MyHeritage controls 8% and brightsolid controls 4%. Combined, the three companies control 44% of the genealogy industry.
New Additions to the Top 100 List
There were 15 new additions to the Top 100 List, as shown in the table below.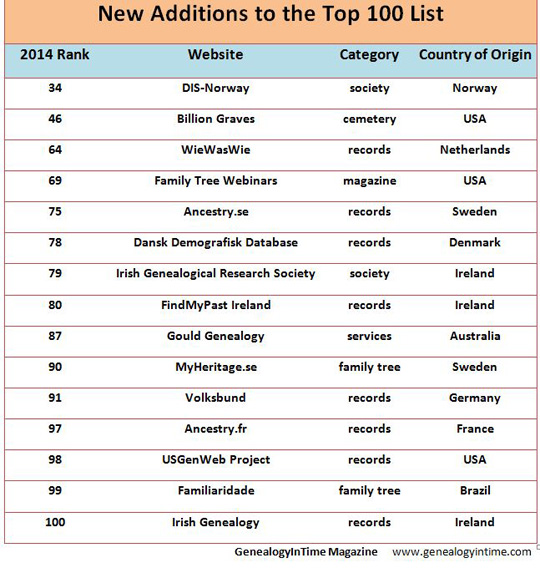 This table shows all the new additions to the
Top 100 List
. It is interesting that only three of the new additions come from the US. The US has traditionally represented about 65% of the genealogy industry. This suggests genealogy is now growing more rapidly in other countries.