Top 100 Genealogy Websites of 2014
At GenealogyInTime Magazine, our mandate is to find creative and innovative ways to help people connect with their ancestors. One way we do this is with our top 100 list. The list helps inform people of the most popular genealogy websites. Other lists exist, but they tend to be skewed towards one country, designed to promote/favor certain websites, or are based on personal preferences. GenealogyInTime Magazine is the only one who produces a list that is objective, comprehensive and complete based on actual traffic statistics.
A Quick Word on Methodology
There are three main services that provide internet traffic rankings: Alexa, Compete and Quantcast. Compete and Quantcast measure US internet traffic, which is not particularly useful for a global top 100 list. Alexa, on the other hand, measures the global internet traffic of about 35 million websites worldwide. They are considered to be the leading provider of internet traffic statistics, which is why we use them. Details on the methodology are described in the article Top 100 Genealogy Websites of 2013 (please read it before sending us an email).
This year, we have enhanced our top 100 list with new analytics and metrics. In particular, we have spent a good deal of time and effort converting internet traffic rankings into actual number of visitors to each website. This allows us to provide a deeper and richer understanding of the genealogy marketplace (see the article How Popular is Genealogy? for more details on the methodology of this enhancement).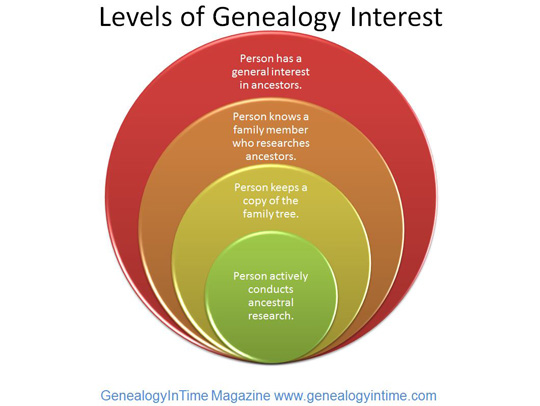 The article
How Popular is Genealogy?
examines the different levels of interest in genealogy to determine how this affects internet traffic to genealogy websites.
The Top 100 List
Below is the GenealogyInTime Magazine list of the top 100 genealogy websites of 2014.