The Top Ten
The table below breaks out the top ten most popular genealogy websites.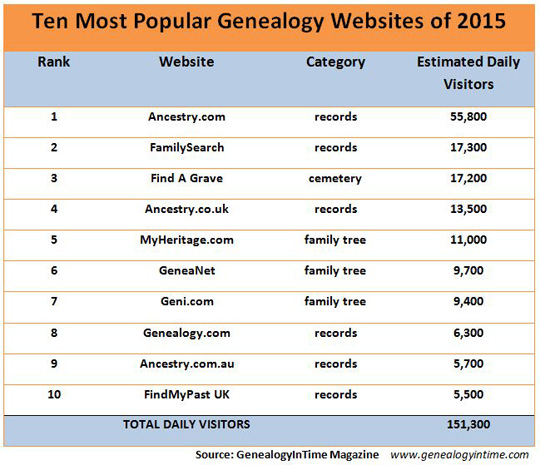 The Top Ten list shows the ten most popular genealogy websites in the world, as measured by actual internet traffic. Note how the list is dominated by websites that specialize in historic records or family trees.
The Top Ten websites are important to look at in detail because they receive about 42% of the traffic to all the genealogy websites on the internet.
Once again, Ancestry.com came out at the top of the list in the number one position. No surprise there. Ancestry gets more than three times the traffic of any other genealogy website. In fact, by our estimates, Ancestry.com alone gets about 15% of all internet traffic related to genealogy.
FamilySearch has regained the number 2 position, slightly edging out Find A Grave. FamilySearch is the largest free genealogy website in the world. It is also arguably the most important source of ancestral records. Many of the records found on major subscription websites like Ancestry and FindMyPast originate from FamilySearch.
Find A Grave this year came in at number 3. It is still going strong and it is still free even though it is now owned by Ancestry.
Ancestry.co.uk made large strides and moved up two places to the number 4 position this year. The website had a large spike up in the number of records on offer in 2014. This obviously helped attract new visitors. A good portion of the new records released over the last year seem to come from FamilySearch. Ancestry.co.uk, however, generally does a very good job of curating those records.
MyHeritage.com moved down one position to number 5. They still remain the largest family tree website. MyHeritage runs a variety of language and country-specific websites with website names of myheritage.xx (such as myheritage.it, myheritage.nl, myheritage.pl, etc.). In fact, by last count, MyHeritage had over 30 different websites. MyHeritage.com is their flagship website.
GeneaNet moved up one position to number 6. It is the top French genealogy website and it specializes in family trees. Over the years, we have seen GeneaNet slowly move up the rankings from the number 9 position in 2012 to where it is today. It continues to grow in popularity, having 2 million members and some 600,000 family trees.
Geni.com slipped two positions down to number 7. It is also a family tree website. Geni.com was purchased recently by MyHeritage. The transition was a bit rocky. The website changed the Terms of Use for existing long-term subscribers, which ended up alienating some users.
Genealogy.com moved up one position to number 8. This website is owned by Ancestry. It has a dated look to it and is full of (mainly) dated material. Ancestry announced last year their intention to shut the website down. However, it is hard to imagine Ancestry giving up such a brilliant website name as genealogy.com. Most likely, the website will be reconfigured into a new format.
There are two new entries into the Top Ten list this year.
At number 9 is Ancestry.com.au, a website devoted to Australian genealogy records. Previously, this website was at #17 on the Top 100 List. The rapid rise of Ancestry.com.au shows both the incredible growth of genealogy in Australia and Ancestry's commitment to the Australian marketplace.
In fact, for the first time, Ancestry's Australian website has surpassed their Canadian website Ancestry.ca in spite of the fact Canada is also an immigrant country with a population 1.5 times that of Australia.
At number 10 we have FindMyPast UK, which was at #18 the previous year. FindMyPast UK is the flagship record website of DC Thompson Family History, a division of brightsolid. Like Ancestry.co.uk, FindMyPast has been rapidly adding new UK record sets over the past year (see the complete list at England and Wales Genealogy Records).
Some of these new records on FindMyPast come from FamilySearch, but many also appear to have been uniquely sourced by FindMyPast. This is not too surprising given that brightsolid (the website's corporate parent) has major scanning capability through ownership of the British Newspaper Archive (#34 on our list) and ScotlandsPeople (#53 on our list).