Rising Genealogy Stars
We always like to talk about rising genealogy stars. These are the websites that have seen the largest increases in popularity over the last year. The table below shows the complete list.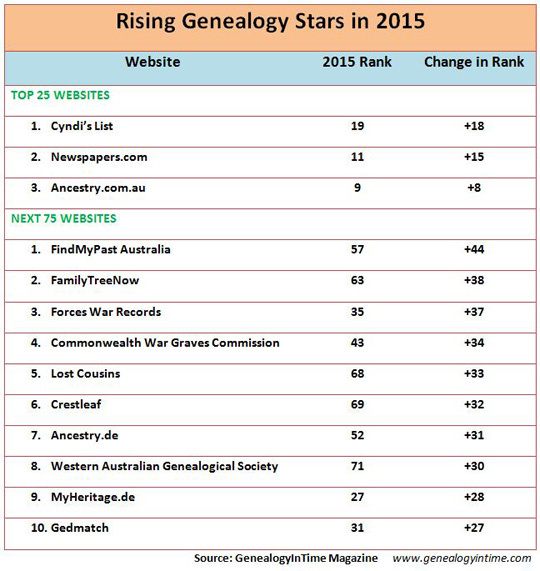 This year, there are three rising genealogy stars that are Australian websites - another indicator of the rapid rise of genealogy in Australia.
We divide our rising star list into two groups: those in the top 25 websites and the balance in the next 75. We do this because it is much harder to make significant gains for a website that is already near the top of the list.
A couple of websites stand out in this list:
• Cyndi's List this year has made great strides in attracting a new generation of genealogists.
• Ancestry.com.au (#9), FindMyPast Australia (#57) and the Western Australian Genealogical Society (#71) all made the list. It shows how genealogy is growing strongly in Australia.
• FamilyTreeNow (#63) has moved up strongly. This website searches free online family tree records.
• Forces War Records (#35) and the Commonwealth War Graves Commission (#43) continue to gain traction with their war records. All war record genealogy websites have done well this year. Some reports suggest that WWI military service records were the most popular record type this year as 2014 marked the 100 year anniversary of the beginning of the First World War.
• Ancestry.de (#52) and MyHeritage.de (#27) are two German websites that show genealogy is also growing strongly in Germany.
• Lost Cousins (#68) is a UK-based family tree website that continues to gain traction.
• Crestleaf (#69) has been around since 2011 but just seriously started marketing themselves in October 2014 and already they have gotten off to a strong start. The website combines family trees and old photographs.
• GEDmatch (#31) provides the ability to compare their DNA testing results to others, showing how DNA analysis is becoming a growing component of genealogy.