The two websites that slipped out of the Top Ten list this year are Archives.com (now at #12) and GenealogyBank (now at #16).
There are six US websites in the Top Ten list in 2015 versus eight last year. There are also two UK websites in the Top Ten (last year there was just one), one French website and (for the first time) an Australian website. The broader geographic mix in the Top Ten list indicates that genealogy is becoming a more global phenomenon.
One final point worth noting: records and family tree websites continue to dominate the Top Ten list. Although these have always been the two most important categories in the Top 100 List, they have become even more prominent this year.
The Top Ten Free Websites
Everybody likes free. So what are the most popular free genealogy websites? The table below shows them.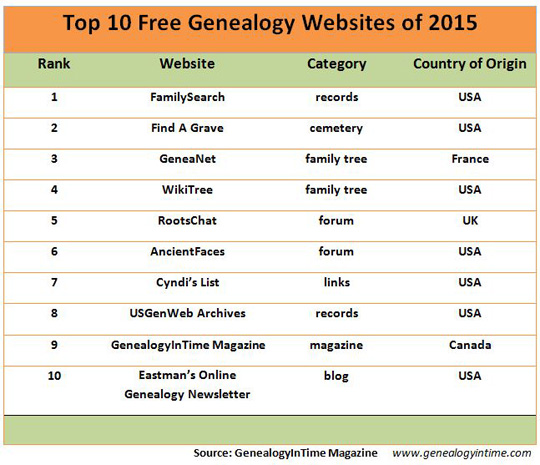 Notice how the top free genealogy websites are much more diverse in what they do compared to the top subscription websites, which tend to focus more on records, family trees and services.
We have already talked about the first three on the list, so we will skip right to number four. Wikitree (at #15 in the Top 100 List) is a free family tree website whose mission is to create a single worldwide family tree. It works on a system that encourages collaboration among members.
So far, they have close to 9 million people in their family tree with contributions coming from some 240,000 genealogists. For the four years that we have tracked Wikitree, it has steadily gained in popularity from its initial position at #33 in our 2012 list.
Another website that has consistently moved up the list of top free genealogy websites is Roots Chat (at #17). RootsChat is a free online genealogy forum. Based in the UK, it specializes in discussions on research from the UK, Ireland, Australia, New Zealand, Canada, the US and South Africa. They currently claim over 210,000 members and 4.8 million posts.
Next on the free list is AncientFaces (at #18). AncientFaces is a forum that specializes in sharing vintage photographs. It has been in existence since 2000. The website has grown as interest in old photographs of family members has increased.
New to the list of top free genealogy websites this year is Cyndi's List (at #19). For many people, Cyndi's List was the first genealogy website they ever looked at on the internet. It is run by Cyndi Ingle and it first went live in March 1996. Cyndi's List is like a giant index of every possible website out there that may contain information useful to family historians. At some point, everybody consults Cyndi's List.
Also new this year to the top free genealogy websites is USGenWeb Archives (at #25). Anyone who does US genealogy should become familiar with this website. It is a giant collection of ancestral records put online by volunteers. The records are organized by state, county and type of record.
Next on the list of the top free genealogy websites is GenealogyInTime Magazine (at #26). That's us. We have been around for over six years now. We are more than just a magazine. We are really a genealogy platform.
In addition to providing many in-depth free articles, we also provide a variety of free tools and resources to help people discover their ancestors. For example, we maintain the most complete list available on the internet of the newest genealogy record sets from around the world. We also run the largest free Genealogy Search Engine.
Finally, we have Eastman's Online Genealogy Newsletter (at #28) run by Dick Eastman himself. We can't say enough good things about Dick Eastman. If you want to know what is going on in the genealogy world, check out his website.